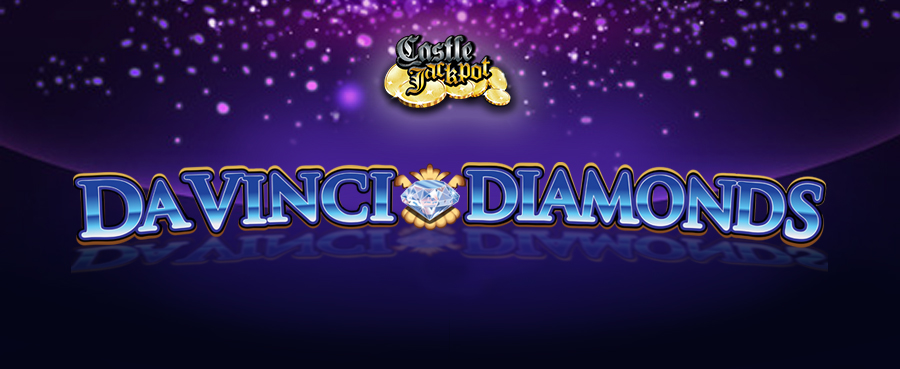 Da Vinci Diamonds Players Guide
If you had to choose between high culture and video slot gaming, which would you choose? It turns out that no such choice is necessary thanks to the Da Vinci Diamonds slot game from IGT. High culture is on full display in this elegant, beautifully themed game based on one of the biggest names of the Renaissance period.

Da Vinci Theming
Students of the classics would expect to see a certain kind of theming in any game based on the life and times of Leonardo da Vinci. Da Vinci Diamonds does not disappoint. Among this game's symbols are various portraits that the great painter is known for. The portraits carry the highest values in the game. These are enhanced by additional symbols resembling precious gems. The da Vinci theme doesn't hold back in terms of Wild and Bonus symbols either. You'll understand as soon as you see them. And by the way, the entire user interface is set against an elegant gold frame that looks like it came right out of a museum.

Da Vinci Diamonds

In Da Vinci Diamonds, IGT has created a very entertaining slot that is easy to play. To begin with, there is no need to adjust paylines prior to spinning. All 20 paylines are fixed for every spin. That leaves the player to decide only on the line bet. That can be done by clicking the + and – buttons on either side of the 'Line Bet' window.
There are two options for spinning. The first is the yellow 'Spin' button located at the centre of the control console. This is your choice for activating manual spins one-at-a-time. If you prefer to sit back and relax while the game spins for you, the blue 'Auto Spin' at the far right is your choice. You can predetermine how many automatic spins you want to be made.
Once they commence, they will continue unabated until one of the following things occurs:
All free spins are completed
You run out of credits
A bonus is triggered
You manually stop automatic spinning

Tumbling Reels in Da Vinci Diamonds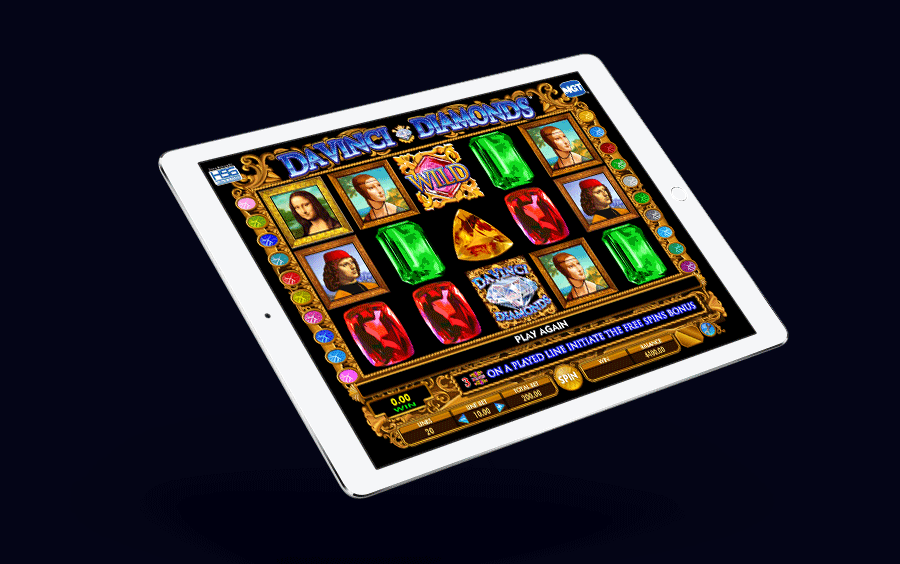 Da Vinci Diamonds is built on a couple of bonus features that really add an extra level of excitement. The first feature is known as Tumbling Reels. It is a pretty common feature these days, but it was brand-new when Da Vinci Diamonds was first released.
The Tumbling Reels concept is one that relies on symbols cascading down from the top of the screen rather than old-style spinning reels. So when we talk about 'spins' in Da Vinci Diamonds, we are really talking about cascading symbols.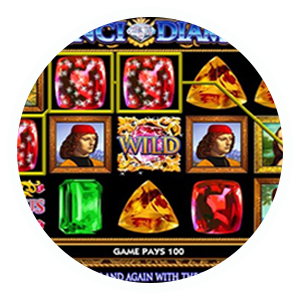 In Da Vinci Diamonds, every time a spin results in at least one winning combination, all the symbols in that combination disappear from the screen after being evaluated. Any symbols above fall down to fill in the empty space. That is followed by additional symbols falling down from the top of the screen to complete the 5 x 3 grid. Symbols are once again evaluated, and if new winning combinations are found, the entire process repeats.

Da Vinci Diamonds Free Spins Bonus
Da Vinci Diamonds' second bonus feature is a Free Spins bonus. This bonus plays with a richer set of symbols and the Tumbling Reels feature. You can win a total of 300 additional free spins during bonus play by landing additional Scatter symbols. Unfortunately, there is no multiplier.
Fans of Da Vinci Diamonds consider it one of the classics. We can't argue. If you have not played it yet, what are you waiting for? The Renaissance master awaits your company.
Play Da Vinci Diamonds at Castle Jackpot

The best way to find out what Da Vinci Diamonds is all about is to jump in and start playing. If you've never played before, it won't take you long to discover why it's consistently one of the most popular online slot games around.